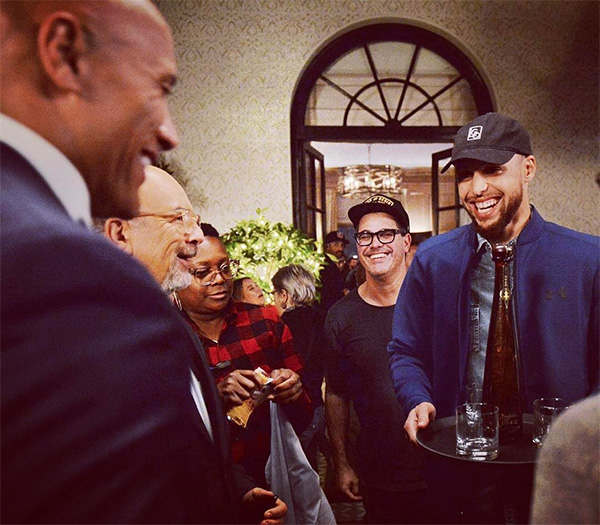 Dwayne "the Rock" Johnson and Steph Curry during a film shoot for Johnson's HBO Show "Ballers." Johnson and Curry have criticized Under Armour CEO Kevin Plank for comments Plank made about US President Donald Trump. Photo courtesy of Dwayne Johnson's Instagram
The backlash over supportive comments made recently by Under Armour CEO Kevin Plank on US President Donald Trump continued Thursday when two of the company's most recognizable endorsers voiced their discontent with their employer's stance.
Actor and former full-time professional wrestler Dwayne "the Rock" Johnson took to Instagram to point out the ramifications of Plank standing by Trump, who has
angered
millions around the world for his misogynistic, racist and xenophobic tendencies.
Ballerina Misty Copeland joined the chorus of critics who called out Plank.
In a televised interview earlier this week, Plank said he considers Trump "a real asset to the country." The billionaire entrepreneur has said his comments were purely business in nature.
Two-time NBA MVP Steph Curry, Under Armour's biggest and most important company pitchman, was the first athlete in the company's stable of big-name endorsers to express his displeasure over Plank's statement.
Curry responded by saying he agrees with Plank's description of Trump if the letters "e" and "t" were removed.
In a story posted on the Mercury News website, Curry said he and Plank have already spoken and hinted that the air has been cleared.
When Curry was asked if he sees himself leaving Under Armour if the two sides' values clash again in the future, the Golden State Warriors guard said it's not impossible.
"If I can say the leadership is not in line with my core values, then there is no amount of money, there is no platform I wouldn't jump off if it wasn't in line with who I am," Curry said.
For more sports coverage, visit the ABS-CBN Sports website.
(Source by:
news.abs-cbn.com
)