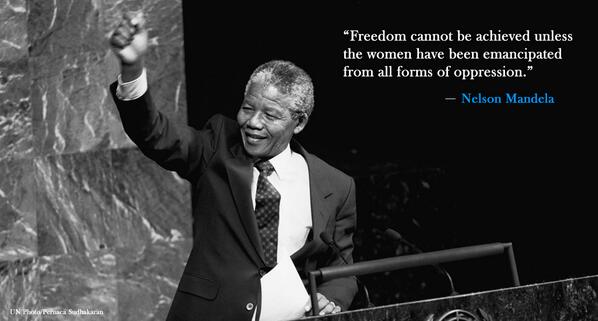 Nelson Mandela was revered around the world, but the South African leader also enjoyed a particularly passionate following in Hollywood.


The movie business' interest in Mandela, who died Thursday at the age of 95, yielded a number of documentaries and, just this year, two feature films about Mandela and his wife: "Winnie Mandela," which opened Sept. 6, and "Mandela: Long Walk to Freedom," which debuted Nov. 29.

Following Mandela's death, several filmmakers, executives and actors reflected on Mandela's life and work, and shared their memories about his influence and having met him.

FULL COVERAGE: Nelson Mandela (1918-2013)

The newest Mandela picture, which is being distributed by the Weinstein Co., features Idris Elba as the famous peacemaker. Based on the 1994 autobiography "Long Walk to Freedom," the biopic has been described by critics as a complex portrait that deals with Mandela's imprisonment and efforts to abolish apartheid.

Elba never met with Mandela before playing him, though he did become close with the icon's family, the actor told The Times last month. The actor recounted how at the film's South African premiere in November, Mandela's daughter Zinzdi asked him to "Come here, Dad," as they all posed for photographs together.


"What an honor it was to step into the shoes of Nelson Mandela and portray a man who defied odds, broke down barriers, and championed human rights before the eyes of the world," Elba said in a statement on Thursday.

PHOTOS: Actors who've portrayed Nelson Mandela on screen

Harvey Weinstein, co-chairman of the independent studio releasing the new film, said it was "an honor to have been granted such proximity to a man who will go down as one of history's greatest freedom fighters and advocates for justice. I have had the privilege of spending time with President Mandela and I can say his sense of humor was as great as his optimism."

Lee Daniels, the African American director behind "Lee Daniels' The Butler," told The Times, "My heart is broken. ... My hero is gone."

Ryan Phillipe said he had a chance to meet Mandela, and that the actor had introduced his young daughter to the statesman.

PHOTOS: Nelson Mandela dead at 95: Celebrities react

"The privilege of spending a small amount of private time w/ Mr. Mandela as he held my baby daughter, is a highlight of my life," Phillipe said on Twitter. "It was like being in the presence of a diety. He truly emanated warmth and humanity. Imperfect, like us all, but w/ a strength few possess."

Actor Morgan Freeman said in a statement: "Today the world lost one of the true giants of the past century. Nelson Mandela was a man of incomparable honor, unconquerable strength, and unyielding resolve--a saint to many, a hero to all who treasure liberty, freedom and the dignity of humankind.

"As we remember his triumphs, let us, in his memory, not just reflect on how far we've come, but on how far we have to go. Madiba may no longer be with us, but his journey continues on with me and with all of us."

(Source by: LA.TIMES )

alex